Barbara Kingsolver was born in 1955 in rural Kentucky.  She has lived and worked all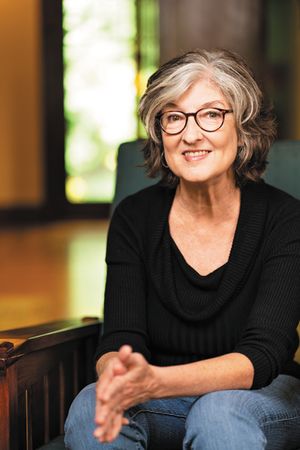 over the world, is fluent in Spanish and now resides on a farm in Southern Virginia.  She holds degrees from DePauw University and The University of Arizona in biology.  Her first novel, The Bean Trees, was published in 1988.  Since then she has published nine novels, four works of non-fiction including Animal Vegetable Miracle: A Year of Food Life, and a book of poetry.  She says when she was little she was a storyteller, but thought growing up to be an author was like growing up to be a fairy; impossible.
Her newest         novel, Unsheltered, was released on October 15, 2018.  It is the story of two families, one in 1875 and the other in 2016.  They live in the same house that is crumbling to pieces around them; and, they face similar challenges, living in times of political turmoil and denial of science.  In 1875 Thatcher Greenwood, a science teacher, struggles to support his family in a nation recovering from, but still divided by the Civil War.  Charles Darwin has published two books that Thatcher embraces but is forbidden to teach.  In 2016 Willa Knox and her husband live in a time of increasing political divisiveness.  She worries about her family's future, having lost what they thought were secure jobs, and worries that climate change denial will threaten not only their future but their grandchild's future as well.
Alternating chapters between 1875 and 2016 Unsheltered is beautifully crafted.  The characters, including the real-life Darwin pen-pal and science writer, Mary Treat are rich and nuanced.
To learn more about Barbara Kingsolver go to her webpage at:  www.kingsolver.com
To listen to or download this segment click the following link: TTEOW Kathleen Marshall and Barbara Kingsolver